Community Outreach Care Program
Charity Works
Hong Kong Adventist Hospital – Tsuen Wan wishes to extend a spirit of love, care, and hope to marginalized groups in the community. Simultaneously, we aim to promote the concept of "total health" and the benefits of healthy living and disease prevention.
We are committed to a long-term approach towards reaching out to the under-privileged local families, elderlies who live alone (ELAs), and children from low-income families.
We aim to promote healthy living and offer support to the under-privileged by adopting an ongoing, progressive approach, such as:
Conducting regular home visits and distributing care packages, inclusive of RAT kits.


— Our volunteers will also keep in regular contact and extend assistance as needed.



Donating free vegetarian lunchboxes to children from low-income families



Organizing health screenings and talks
During COVID, HKAH-TW's Community Outreach Care Program, in partnership with Seventh-day Adventist Churches and district councilors, continued to distribute care packages to families in the Tsuen Wan community.
Mar – Nov 2022
About 680 families have received packages, including oil, rice, noodles, masks, hand sanitizer, and RAT kits. Further, we helped refer applicants in need of charity medical services to HKAH-TW.
Mar – Dec 2022
Pastor Chu of Mountain View Church said that besides providing material assistance, the follow-up phone calls and in-person visits also made beneficiaries feel less lonely. Particularly for single elderlies living alone, "it is nice to know that there are still people in the community who care for [us]."
Distribution continues over Christmas'22 and Chinese New Year'23 with little festive delicacies as a surprise!


Due to COVID restrictions, the volunteers of Bible Auditorium Church had to visit the elderly living alone several times and distributed a total of 50 bags.
The person in charge said, "the elderlies felt the contents were practical and varied; they are delighted to receive it."
Sep 2022
Heng On Chapel also provided simple medical checkups, including blood tests, cholesterol tests, blood pressure measurements, and health consultations to about 130 elderlies at Hengan Mission.
Ms. Chan, the person in charge, said that the participants appreciated the patience of the healthcare workers who helped them understand their health conditions.
In the same month, we held a health talk and distributed 50 packages. We hope the healthy diet tips and food shared can strengthen their immunity during the epidemic.
Started in Oct 2022
Pioneer Memorial Church sent 25 bags to the elderly living alone as a token of our care.
Nov – Dec 2022
SDA Tai Po Church: Held two events and distributed 40 care packages to people from low-income families.
Sep – Dec, 2021
Three visits during September to December 2021 were paid to 100 residents of low income family and the elderly people who live alone.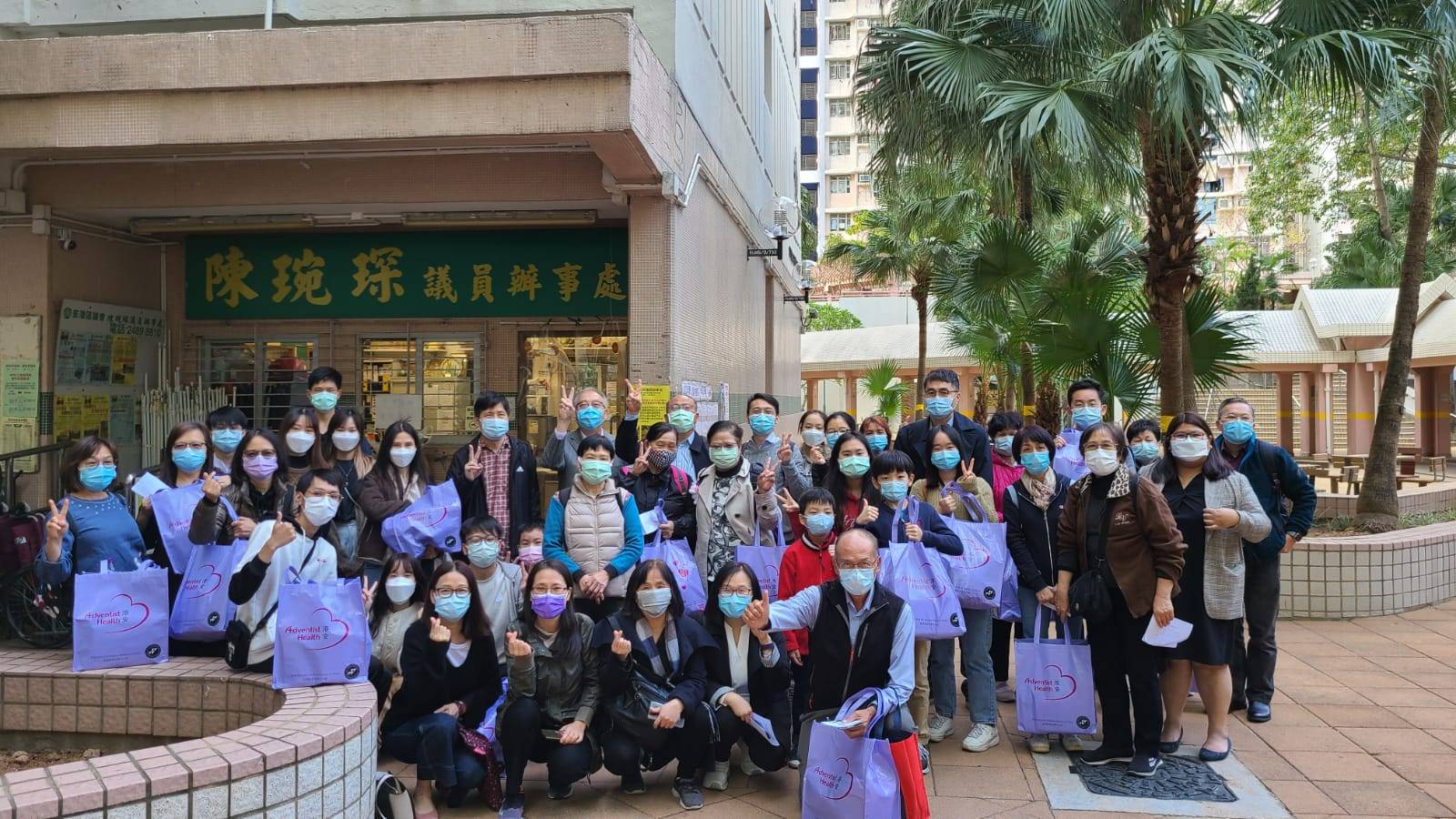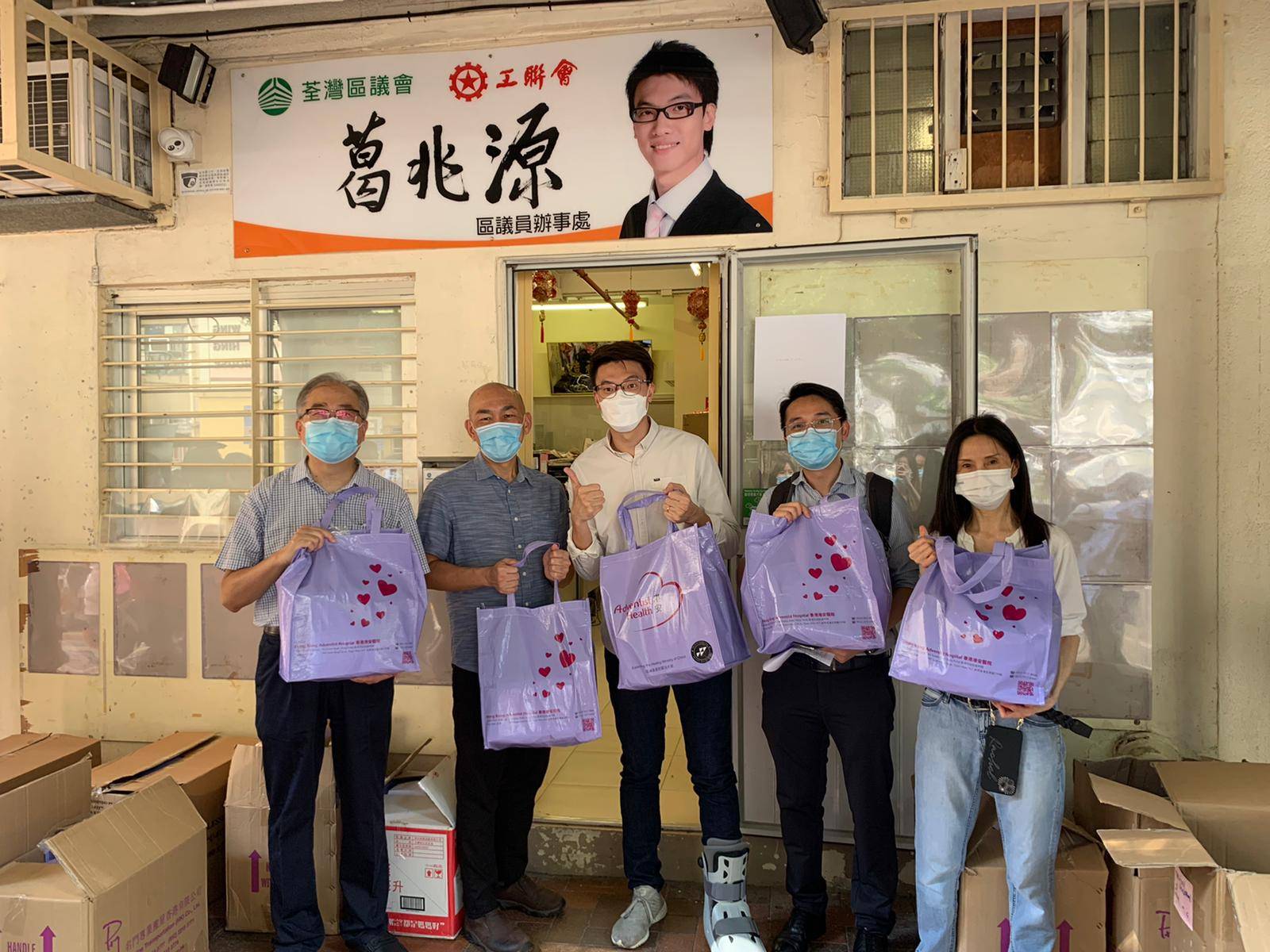 COVID has affected every generation of Hong Kongers, including students returning from online classes to school. As the constant changes in their academic careers have increased stress, our Youth program collaborates with nearby schools to provide emotional support, stress relief and healthy living activities. We also refer those in need to specialists for further treatment.
Since Sept'22, we have held two seminars (220 participants) and several stress relief and healthy living workshops inclusive of sports stretching. Through these activities, COVID-19-impacted students can relieve their learning pressures and experience off-site extracurriculars, and ultimately understand that despite the stress, we are there for them.
Christmas Gingerbread Distribution for Students
In light of the growing mental health crisis amongst youth, we donated 108 Gingerbread cookies to the students at the nearby Lim Por Yen Secondary School to spread Christmas cheer and encourage them in their preparations for the upcoming exams.

These cookies were produced by CookieSmiles "Gingerbread for Good" campaign in collaboration with Landmark and culinary experts at premium hotels and restaurants.
Foodlink – Free lunch boxes and Food Donation
Foodlink – Free lunch boxes and Food Donation
A lunch box may seem insignificant, but it is a direct aid to a low-income family and/or elderlies living alone. HKAH-TW, in collaboration with Foodlink, has provided free lunch boxes to the needy every week. From June – Nov'22, we have sent 1,375 lunch boxes to date.
Further, we donate leftover food to other care centers every week to help even more people, avoid food waste and support environmental protection. Some homes said the residents eagerly awaited the additional food.
"The food was more varied than before; residents were delighted with the meals and were able to recuperate successfully."
1. By Cheque
Please make the cheque payable to "Hong Kong Adventist Hospital – Tsuen Wan" and mail it to Development & Community Relations Department at 199 Tsuen King Circuit, Tsuen Wan, Hong Kong.
2. Through Bank Deposit
Donations can be deposited to the below account:
Account Name: Hong Kong Adventist Hospital – Tsuen Wan
Bank Name: Hang Seng Bank
A/C Number: 395-443922-001
3. Online
4. Donation Form
5. Others
We would like to partner with you! Consider making us as a beneficiary of your corporate event; we are also open to other partnership opportunities.
For further discussions, kindly reach out via foundation@twah.org.hk or 2276 7130.

Remarks
Receipts will be issued for all donations. Donations over $100 are tax-deductible.
Please send the transaction record along with your details to us by mail, email or Whatsapp:
Personal Details: name, mailing address and contact number
Whatsapp: 6383 5396 or
Email: foundation@twah.org.hk, or
Address: Development & Community Relations Department, Hong Kong Adventist Hospital – Tsuen Wan, 199 Tsuen King Circuit, Tsuen Wan, HK.
Please indicate the particular purpose (e.g. Community Outreach Care Program) at the back of the cheque, otherwise the donations will be applied on a 'most-needed' basis or used for other life-changing/life-saving medical treatments.
199 Tsuen King Circuit, Tsuen Wan, N.T., Hong Kong